Sweet Lou's BBQ
"You Buy, We Fly"
Delivery to Your Home Or Office
BBQ Pulled Pork - Ribs Beef - Sausage - Chicken
Feeds 10 People - 3 Day Advance Order
2 Tasty Meats With 2 Sides, $125
OR
3 Tasty Meats With 2 Sides, $175
Great For Leftovers!
For More Information and Ordering Contact us at
Down Home BBQ Slow Cooked Every TIME ...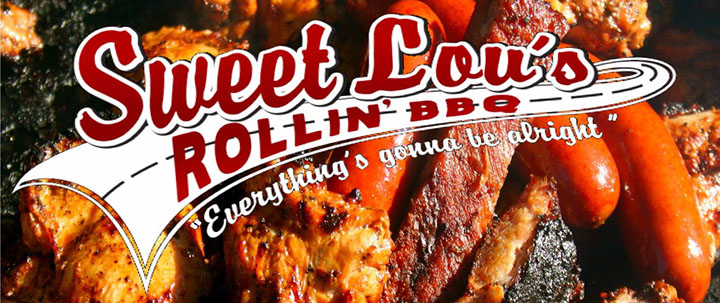 Sweet Lou's BBQ
Down Home and Slow Cooked Every Time!
Pork Spare Ribs | BIG Beef Ribs
Brisket & Tri Tip ' Chicken

Our Services Include
On-site catering prepared in our custom trailer's kitchen; Delicious BBQ served hot from the grill for you and your guests, and no mess left behind -- All you do is eat!
Delivery service available; Cooked up in our smokers, delivered hot, straight to YOUR office or front door.
Need a Fundraiser for your organization? Sweet Lou's is always ready to help out with a very generous approach to fundraising for Sports Teams and Leagues, Booster Clubs, Schools and Non-Profit events.
Blues and Que Package: Sweet Lou's BBQ served up with a side of LIVE Blues entertainment. Ask about package details and band availability.
' Special Events ' Fundraisers ' Corporate Parties '
' Private Parties ' Weddings '

Contact Us To Cater Your Next Event:
Phone: 323-213-1632 or 714-891-7959
Email:


Read what other BBQ lovers are saying about Sweet Lou's.
Check out our Yelp reviews.
'Everything's Gonna Be Alright!'
Sweet Lou's Supports the BLUES
---

Sweet Lous provides BBQ Catering, Barbecue Catering & Barbeque Catering! We are bbq catering orange county, ca - bbq caterer orange county, ca - barbeque catering orange county, ca - barbeque caterer orange county, ca - bbq catering huntington beach, ca - bbq caterer huntington beach, ca - barbeque catering huntington beach, ca - barbeque caterer huntington beach, ca - bbq catering los angeles, ca - bbq caterer los angeles, ca - barbeque catering los angeles, ca - barbeque caterer los angeles, ca